COME DISCOVER OUR ESTATES
Book your unforgettable visit to our estates so you can discover the magic of the Langhe, a UNESCO site, and join us for a toast. Starting from our headquarters in Cossano Belbo, we will take you to Piedmont's key winegrowing areas on a journey offering unexpected landscapes and an experience of winemaking excellence.
Book your visit at least one week in advance: just fill out the form below, or call us at 0039 0141 837211
I consent to the processing of personal data
Privacy policy

Stage 1
The sacred charm of our aging cellar, The Magnificat, in Cossano Belbo, the only one of its kind: a true cathedral built to honour wine.
Stage 2
The elegance and refinement of Villa Lanata, in Cossano Belbo, a historic late-nineteenth-century dwelling adorned with breathtaking frescoes, set amid the gentle hillsides of Moscato d'Asti.
Stage 3
Tradition and real innovation in perfect balance at Cascina Lo Zoccolaio, a suggestive estate perched on the regal hills of Barolo, where great wine stories come to life.
Stage 4
The majesty of La Toledana, in Gavi, a sixteenth-century noble dwelling dominating its sun-drenched vineyards of Cortese grapes.
The route of italian taste and quality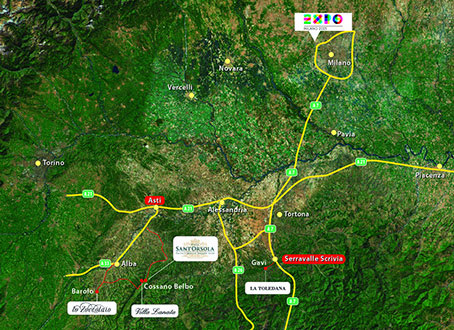 Visit at:
Fratelli Martini Secondo Luigi S.p.A
Cossano Belbo (CN)
Loc. S.Bovo
Via Statale 26 - 12054
+39 0141 837211
+39 0141 837204
info@fratellimartini.it
latitude 44.67281
longitude 8.19892
- Take the A7 Milan-Genoa motorway, direction Genoa, and exit at Serravalle Scrivia
- Take the roundabout just after the toll booth, take the third exit
- Take the main road SS35 and then take the SS161
- At the roundabout take the second exit (via Cavalieri di Vitt. Veneto)
- Turn left and take the SS160 for 2.2 km
- Take the A7 Milan-Genoa motorway, to Genoa
- Take the A21 to Torino and exit at Asti Est
- Keep left, follow signs for SS231 / Alba / Cuneo / Acqui Terme
- Continue on A33
- Exit at Isola d'Asti
- Take SP59 and Provincial Road 23a / SP23a towards Cossano Belbo
We use cookies to ensure you get the best experience on our website.
Read More